← Previous
Other Products
Next →
Your Voyce Matters Shirt
Sale price Price $30.00 Regular price
Read Review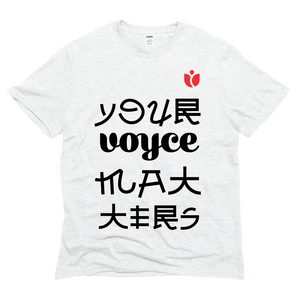 Details
Not sure if anyone's told you this recently, but "Your Voyce Matters." This shirt is a statement to the world that your thoughts, ideas, and beliefs matters. And in true Voyce style, we convey this message in a way that makes the reader ask "what does that say?" Set on an antique white shirt, the use of Japanese-inspired font and creative word positioning is sure to make you (and the shirt) the beginning of a lot of conversations.

This quality, eco-friendly triblend tee not only makes you look good - but feel good. The eco-friendly fabric includes five recycled water bottles and is a slightly heavier weight than many triblends, keeping this shirt looking great wash after wash.
 Just like our other products, we will donate a portion of the sales from this shirt to a charitable cause.
50% Recycled Polyester, 25% Cotton, 25% Rayon
Wash inside out with cold water with similar colors using a gentle cycle. Tumble dry low or hang-dry. If ironing is necessary, iron inside-out on the lowest setting. Avoid using bleach and do not dry clean.
Made in the USA
Reviews