Child Crisis AZ
Sale price Price $18.00 Regular price
Read Review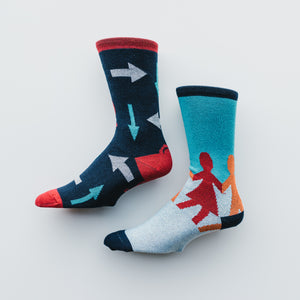 Details
Foster care, children's shelters, early education services – Child Crisis AZ knows that children's lives are precious. The paper doll inspired design reflects the innocence of the children this organization works to protect. The arrow motif conveys that there are many children from various experiences and backgrounds who need protection from neglect – sometimes causing a relocation from an abusive situation into a safer one.
These socks were made in collaboration with Latasha Causey and Monique Porras – two champions of the community. They wanted to develop a unique way to be generous and inspire others to do the same. So, they partnered with us to design a pair of socks that brings awareness to this organization and its cause.  
We would also like to thank Bell Bank and The King Approach for their contribution and support.
38% Recycled Cotton, 35% Recycled Polyester, 24% Nylon, 3% Spandex
Machine wash warm on gentle cycle, do not bleach, tumble dry low, do not dry clean or iron
Made in the USA
Reviews